Mozilla has released the fourth beta of its popular open source browser Firefox. This almost coincides with the release of the first beta version of Internet Explorer 8.1 by Microsoft. Mozilla says that the new beta version of Firefox has more than 900 enhancements. Additional stress has been given to performance, memory and simplifying the user interface.


The company also claimed that web applications run twice as fast in Firefox 3 when compared to the earlier version. The beta four also has a resume download application, a new location bar and an auto-complete system which presents options for the addresses of pages as soon as a user starts typing. Only the most relevant matches are shown based on frequency of use. Mozilla will release one more beta before coming out with the full fledged version of Firefox3.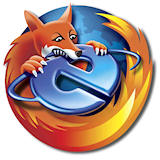 Firefox is a fast, full-featured browser that makes browsing more efficient than ever before. More information about Firefox is available.
Firefox 3 Beta 4 is 5x faster than IE7, 3x faster than FF2
The almost-but-not-quite-final beta of Firefox 3 (FF3 beta 4) is now available for download. The most noticeable improvement is speed. In some tests, it's three times faster than Firefox 2 (meaning the test completes in 1/3 the time), and a whopping five times faster than IE 7:
Other improvements in beta 4 include:
Smarter location bar that tunes itself to your browsing habits. As you type in part of the URL it will offer suggestions based on where you've been before. Better native look-n-feel on Vista, Mac OSX, and Linux.
This includes continuing work on icons, menus, native controls.
Zoom just the text or the whole page.
Zooming the text was one feature I missed from Firefox 2.
Reduced memory usage. This is the main reason I switched to Firefox 3 for my everyday use.
The old version often became unstable after a long session with many tabs open.
To see all the changes made so far in Firefox 3 read this excellent summary by Percy Cabello or see the release notes. Mozilla watchers expect one more beta before the production version is released.
Ed Burnette has programmed everything from device drivers and compilers to video games and multi-user servers. He is currently writing enterprise software in a variety of languages including C, Ruby, Python, and Java.
Download It
Source : technozone